The medical charity Médecins Sans Frontières (MSF) has released two reports describing attacks on medical facilities it runs or supports in Yemen.
The attacks on a hospital in Abs on 15 August 2016 and another in Taiz on 2 December last year resulted in the deaths of 20 people and injuries to 32 others. The charity says that as a result of the Abs bombing, it withdrew from six hospitals in the north of the country.
A months-long campaign by Saudi Arabia and its Sunni allies in a bid to reinstate the president, Abd-Rabbu Mansour Hadi, and hold back Houthi rebels, has provoked widespread concern over the impact on civilians.
MSF's reports, released ahead of a UN security council closed session on protection of medical missions, show that the hospitals had been identified to the Saudi-lead coalition with both GPS coordinates and logos and that there was "no legitimate reason" to attack them.
In an emailed press release MSF said: "The details of the incidents documented in these two reports are unambiguous indicators of how war is being waged in Yemen, where there is an utter disregard for civilian life by all warring parties."
An internal Saudi report into the bombing in Taiz released in August concluded that the Coalition had been targeting Houthi militia nearby and damage to the mobile medical unit was a result of collateral damage.
The findings are sure to put pressure on the British government, which has faced mounting criticism due to the fact it has overseen the sale of over £5.6 billion of military licences to Saudi Arabia, which is leading a bombing campaign in the country, since 2010.
This week, in what appeared to be a shift in policy, it put its name to a call at the UN to set up an independent mission to report on human rights abuses.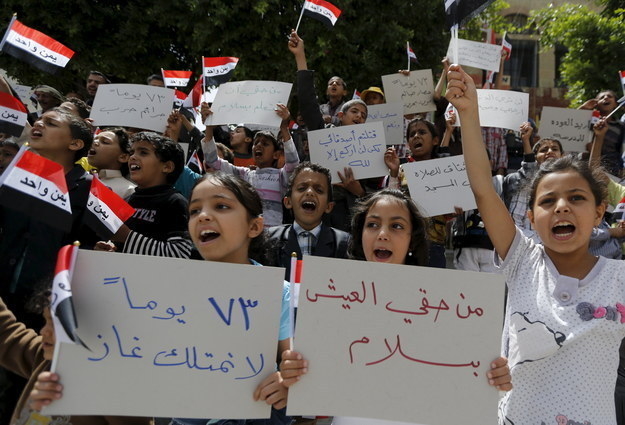 View this image ›
Children shout slogans during an anti-Saudi protest in Sanaa, Yemen, on 6 June 2015. Khaled Abdullah Ali Al Mahdi / Reuters
Politicians are divided over the issue: A recent parliamentary inquiry ended with the committee responsible claiming leaks "undermined any possibility" of agreement, two competing reports, and an MP demanding private investigators be called in.
The government is also facing legal action from activists over the sales, with Campaign Against Arms Trade (CAAT) bringing a judicial review in the high court. The government has been told by CAAT's lawyers that evidence it provided was potentially "inaccurate" and "materially misleading" as a result of a series of corrections to parliamentary statements that it had been forced to make.
In its press release, MSF said: "Since UNSC 2286 resolution was passed last May, there have been no concrete steps to work towards its underlying goal. MSF urges the UNSC members to take bold and practical steps in tomorrow's meeting to ensure that 2016 is the last year that hospitals are bombed while the world watches in silence."
The release concluded with a call for "all warring parties to uphold the principles of humanitarian law, which protect civilians as well as medical facilities, patients and staff, and thus reduce the massive human cost that has characterised the Yemen conflict."
A Foreign Office spokesperson said: "We are aware of reports of alleged violations of International Humanitarian Law (IHL) by actors in the conflict and take these very seriously. It is important that all sides conduct thorough and conclusive investigations into incidents where it is alleged that IHL has been breached and implement lessons learned from those investigations. This is the standard we set ourselves and our allies."
Andrew Smith of CAAT said: "The Saudi-led bombing campaign is having a devastating impact on the people of Yemen, and the UK government is complicit in it. The bombing of hospitals is another terrible reminder of the indiscriminate impact of the assault.
People are being killed every day. Ministers like Theresa May and Boris Johnson have a choice, they could end the arms sales tomorrow, and stop their support for the destruction. It is time for them to do the right thing and put Yemeni lives ahead of arms company profits."
Check out more articles on BuzzFeed.com!
Alan White is a senior reporter for BuzzFeed News and is based in London.Original Article