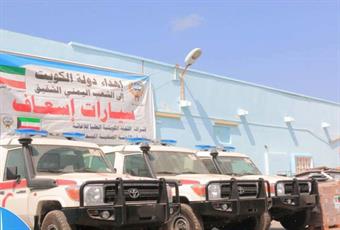 Kuwait provides ambulances, medicines to Yemen's Taiz
The State of Kuwait has offered four ambulances and seven tones of different kinds of medicines to the Yemeni city of Taiz, as part of its humanitarian aid to Yemeni people.
The aid was delivered by Abou Ismael bin Issa Al-Qurashi, Kuwaiti Higher Committee for Relief representative, to Taiz Governor Ali Al-Muammary Thursday morning in the temporary capital of Aden.
Such ambulances and medicines will work on alleviating suffering of patients at hospitals of Taiz which are attacked every day by random shelling, Al-Muammary said during a festival. His remarks were available in Riyadh.
He expressed his gratitude for the delivery of this humanitarian aid to the city which has been suffering from the besiege imposed by Houthi militants.
"Kuwaitis have been helping their Yemeni brothers and sisters," he noted, thanking the country, His Highness the Amir and the government for this generous support.
Meanwhile, Kuwait Red Crescent Society Director General Abdulrahman Al-Oun said that the visit to Aden and other places aims to be briefed on situations there so as to offer aid so needy people, stressing continued assistance to Yemenis.
Abou Ismael also expressed his appreciations to Kuwait, His Highness the Amir and the government for their unlimited support provided to Yemenis in all fields.
The festival of delivering aid was attended by some officials from the two sides.